A
fter Shushinkan, we tried hitting as many breweries as possible. Using the handy map/brochure available at local rail station, we find that there are 8 breweries listed.
Shushinkan was near the central western part of the stip, less than 10 minutes walk from Ishiyagawa train station. Since the majority of the breweries were to the east of Shushinkan, we had to rule out the famed Sawanotsuru Brewery.
After lunch and the tour, it was roughly 3:30 pm when we left Shushinkan. We set our sights to the nearest brewery,
Sakashokan
(Japanese only website).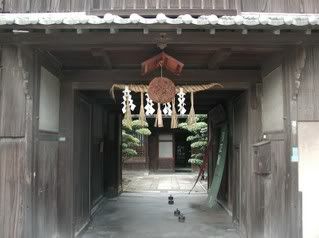 The entrance was magnificent and traditional. As we enter the gates into a room, we find out that they only have a gift store/museum but no tours. That was unfortunate, as there were also no tastings. But, they did have a nice display to showcase their Nihonshu.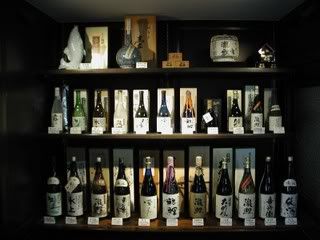 After leaving Sakashokan, we set course for the famed
Hakutsuru Brewery
. By the time we got to Hakutsuru, it was little bit after 4:00 pm. That's when I realized that Brewerys close at 5:00 pm, meaning last entry was at 4:00 pm. We were out of luck seeing Hakutsuru tour, but we did pass along massive tanks making us wonder about their capabilities (the area in front is an outdoor tennis court, to give you some perspective.)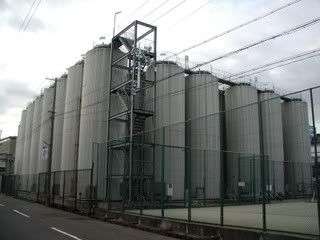 Unfortunately,
Kikumasamune
closed even earlier at 4:30 pm, so that was out of the question. The only brewery we could visit was
Sakura Masamune Museum "Sakura-En"
(Japanese only website), which was open until 7:00 pm (closed on Tuesdays).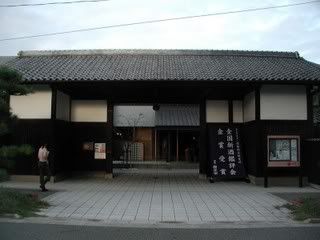 The museum was totally rebuilt after the earthquake of 1995, so everything was very clean and well-kept. The museum started on the first floor and up to the second floor, featuring some interesting artifacts including old saké making equipments and history of bottles, somewhat visible on the right side of the photograph below.
The shop on the first floor sold saké and accessories, and there was one thing that caught my attention, something I have never seen before: a red sake called "Hanashizuku Aka."
Red sakés are result of using either one of two ingredients: red colored yeast or red rice. This saké was made using a very old type of red rice called "Shikokumai," translated as "purple black rice." Although slightly lower in alcohol at 13~14%, it is dry with SMV rating of +3 and acidity of 1.3. Naturally, this was one of those items I took home with me to NYC.
Having tried the saké in NYC (only benefit of retro-blogging!) I took the following notes:
Pink grapefruit, with creamy rice on the nose. Medium body, yet light on the flavor. Cherry-like flavor and grain on the palate, leading to slightly tart and dry finish.
In the end, if I had to do it all again, I would have started with Sakura Masamune, which opens at 10:00 am, then headed west. Lunch at
Sakabayashi Restaurant at Shushinkan
is a must, be sure to call ahead for reservation for your seat as well as your order of the hand-made soba. Take a nice walk along the riverside, before concluding the tour at Sawanotsuru Brewery. Kanpai!